Indonesia joins CRIRSCO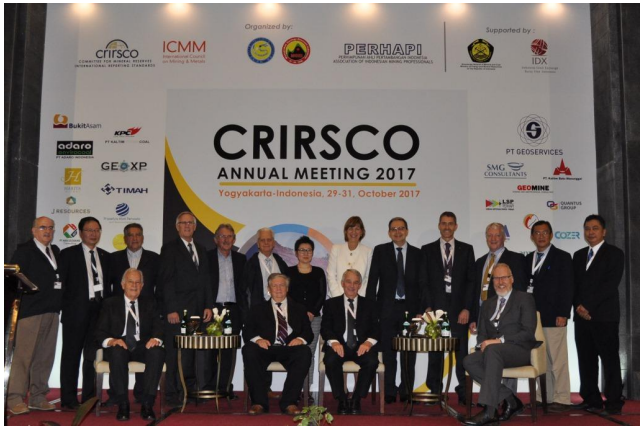 CRIRSCO NRO Representatives at the Annual Meeting 2017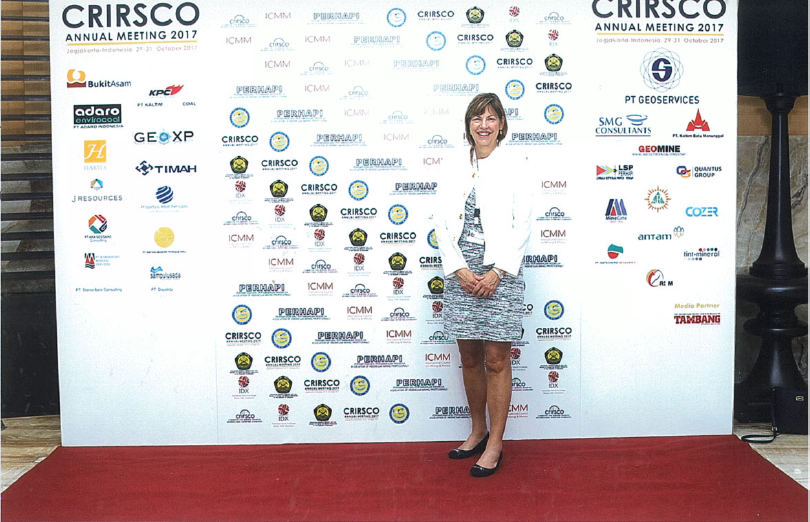 Deborah McCombe, representing CIM, at CRIRSCO Annual Meeting 2017
The Annual General Meeting, hosted in a country striving towards CRIRSCO membership, was held in Jogjakarta, Indonesia from October 29 to October 31, 2017. The Annual General Meeting provides an opportunity for NRO representatives to provide an update of their jurisdiction's codes and guidelines, and for the chairperson of CRIRSCO to outline the organization's progress and future goals. The meeting was hosted by the NRO for Indonesia, KOMBERS, under the Chairmanship of Chairul Nas, a KCMI joint committee of the Indonesian Society of Geologists (IAGI) and the Association of Indonesian Mining Professionals (PERHAPI). National Reporting Organizations (NRO) nominate two representatives who offer their service on a voluntary basis to the Committee.  These NROs are bodies responsible for developing mineral reporting codes, standards and guidelines for a single country or grouping of countries and are members of CRIRSCO.The Committee for Mineral Reserves International Reporting Standards (CRIRSCO), with support from the International Council on Mining and Metals, continues to demonstrate commitment to the establishment and maintenance of common standards of high quality for the reporting of Exploration Results, Mineral Resources, and Mineral Reserves by providing an international forum to ensure reporting standard consistency and contributing to best practice development.  In October, Indonesia was admitted as CRIRSCO's eleventh member.
CRIRSCO met in closed session from October 29 to October 30, 2017 to discuss revision of the CRIRSCO Template, revision of the Terms of Reference document, plans and budge for 2018, mutual recognition of Codes and Professional Organizations, and the admission of Indonesia as a member.  Presentations outlining progress to fulfill membership criteria and challenges faced conducted by delegates from potential new members were held on October 31, 2017.  Following this, a ceremony formally admitting Indonesia as the eleventh member of CRIRSCO was held.  To fulfill the requirements for CRIRSCO membership, KOMBERS has developed the Kode KCMI 2017 as a reporting code compliant with the CRIRSCO Template, has established procedures for the Registration of Competent Persons Indonesia (CPI) and has set forth a Code of Ethics, with suitable provisions for disciplining the members of IAGI and PERHAPI.  
As CRIRSCO's international acclaim continues to progress, it garners interest from potential new members such as India, China, Philippines, Turkey, and the Kyrgyz Republic.  Developments at this year's meeting include the signing of a document between CRIRSCO and Turkey detailing actions required to achieve membership and a timetable to fulfill these criteria, and the signing of a Memorandum of Understanding between CRIRSCO and the Kyrgyz Republic outlining assistance CRIRSCO will provide and steps required to develop a NRO, compliant Code, and professional organizations fulfilling the requirements of CRIRSCO.  India's presentation regarding their progress towards CRIRSCO membership concluded that the National Core Committee for Reporting Exploration Results, Mineral Resources and Reserves in India (NACRI) charter, ethics document, Recognized Competent Person's admission, and disciplinary action documents are ready for CRIRSCO review, with the final draft of the IMIG code to follow.  China is currently working towards the formation of a CRIRSCO compliant national reporting code and the Philippines is working to establish an NRO but has faced challenges due to the Philippine Society of Mining Engineers reluctance to contribute to and join the Philippine Mineral Reporting Code and the loss of the Accredited Professional Organizations status for the Geological Society of the Philippines, Society of Metallurgical Engineers of the Philippines, and Philippine Society of Mining Engineers with the Philippine Professional Regulation Commission.
Through CIM's involvement and contribution to the standardization of codes and guidelines, CIM has proven to be a valuable member to CRIRSCO. With the ultimate goal of increasing investor confidence in the mining industry worldwide, CRIRSCO's standardization of these codes and the involvement of a Qualified (Competent) Person has provided a much needed platform for international collaboration.
CRIRSCO members
Australasia (JORC)*
Canada (CIM)*
Europe (PERC)
South Africa (SAMREC)*
United States (SME)*
Chile (National Committee)
Joined 2002
Russia (NAEN)
Joined 2011
Mongolia (MPIGM)
Joined 2014
Brazil (CBRR)
Joined 2015
Kazakhstan (KAZRC)
Joined 2017
Indonesia (KOMBERS)
Joined 2017
*Founding member